| | | | |
| --- | --- | --- | --- |
| | | | |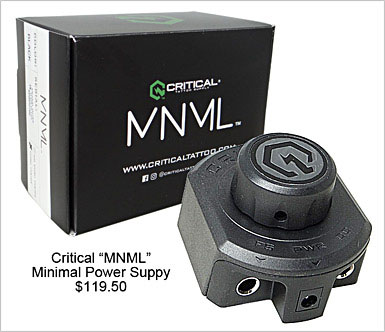 "MNML" Minimal
No Frills #11EXMNML
Critical Power Supply
$129.95

CX2 Gen2,

$279.99


1 Machine Power Supply
Comes with Mounting Bracket and Power Pack

CX1 Gen2

$179.99


Smaller Format Generation 1
Single machine Hook-up,
Power Pak and
Mounting Bracket

CX2-R Gen2, $319.00
2 Machine Power Supply
Comes with Mounting Bracket and Power Pack

11EXCXPW

$79.99


Just the foot switch.
Foot switch can be used by using a clip cord.
2 standoffs on the rear e
accept spring clip cord prongs.

CXR-U, $95.99
Wireless Universal Receiver
Simple to operate. Order with
Critical Foot switch and use
with most power supplies.

Switching Power Supply,

Replacement $3

5.99


100-240V 50/60Hz 0.2A.
Powers down after 15 minutes of inactivity.

Bracket

$25.00


Comes with power Supplies
3 Powerful Magnets clamp on metal or can be screw or bolt mounted.
Notice about international electric compatibilities.
This Electronic equipment rated 110-120 and 220-240 Volt will work on the voltages listed,
but the plug that fits into your country's wall socket may not be compatible or may not come
with plug in which case you may have to purchase a plug locally.
11EXCX Critical Digital and Wireless Foot Switch

UNIMAXSUPPLY.COM 269 Canal St, N.Y., N.Y. 10013
(212) 925-1051,1-800-9-UNIMAX
Entire Contents Copyright 2022.