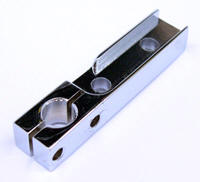 # 4A-221, $ 45.00 Each - discontinued
High Polish Chrome Aluminum 2-Hole Squeeze Chuck.

The Rear hole has a function to squeeze or close the over-all size of the
chuck opening to fit undersize tubes, tubes less than the 5/16" (Industry Standard).

If a tube won't fit don't brutalize the chuck
USE COMMON SENSE, follow these instructions.
Please note, damaging the chuck by using a screwdriver or other prying tool
is considered abuse of the chuck and damaged chucks will not be replaced.