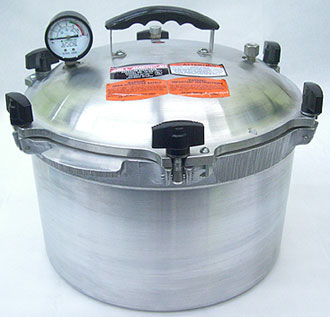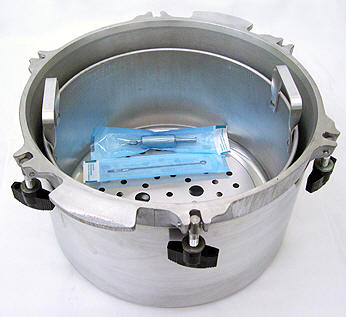 New, moved or repaired automatic sterilizers are not considered ready to be put into service until three (3) consecutive "negative" spore test are received.
3 Free Pre-Paid spore tests are include with these units.
After the initial testing check with your HD for
their regulations regarding periodic testing. Order more spore tests.
The "Electric Processor," Real Economy Processor," and the "Stove-Top Processor" will require a "negative" spore test for every load before the items in that load are put into service.
All autoclaves that are not fully automatic
MUST spore test every load.
Items processed with a new unit cannot be used
until 3 "negative growth" spore tests are returned.
3 Free Pre-Paid spore tests are include with this unit.
Do not put this unit into service without running 3 consecutive loads with spore tests,
returning the spore tests for processing
and waiting for the results before putting the items into service.
After the initial testing,
every load must be spore tested and held
until the results are returned as "negative growth."
Order more spore tests.
The Stove Top Sterilizer requires a separate heat source.
6" Small Hot Plates do not generate enough heat.
It should also be noted that metal-to-metal seal (meaning no separate gaskets) the top must be uniformly tightened working around and around little by little to prevent warping.
All autoclaves are pre-tested. Warped Tops that leak will not be replaced because this condition is caused by improper tightening of the sealing knobs causing warping.
Order # 29A01, Stove Top Sterilizer $ 368.54
Stove Top Autoclave Sterilizer
Overall Height: 12 1/4" (25 Quart, 23.66 liters)
Weight 20 Lbs
Max Temp 259 Degrees F Calibrated Gauge.
Steam release switch.
Heat Source: Large 8" Hot Plate or Stove.
Chamber Size: 11" x 6" Deep.
Complete cylce should take 45 minutes from cold.
Manual operation.
Heat must be monitored for correct temperature maintenance during the entire cycle.
Includes Basket. $ 368.54
Please note: It is required to spore test new and repaired sterilizers before being put into service.
Sterility assurance means: Repeated spore testing consistently produces negative results.
If a spore test failed, it means everything sterilized prior to the failed test and after the last successful test may be non-sterile and must be re-packaged and re-sterilized.
It makes sense not to use any sterilized item until a spore test validates it. This means the newly sterilized items are held in quarantine until the spore testing is done, weekly, daily or monthly.
A failed spore test requires the re-sterilization of everything processed since the last successful spore test.