Pro-Kit # 28440 - Free Sharps Container - Professional.
Every Item Guaranteed Professional
World's Strongest Tattoo Machines
Euro Digital Power Supply, Quality Mom's Ink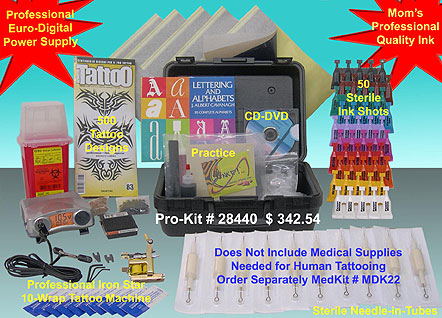 All needles and tubes are
pre-sterilized and disposable.
Hazard Waste Container provided
to Safely dispose of the needles and tubes.
Choose from Any Iron or Chrome Machine
See The Strongest Machines in the World
Does not include the medical supplies
necessary for Human Tattooing
Order Med-Kit # MDK22 $ 131.17
Requires sponsorship.
What does it mean?
$ 342.50 Complete
Professional Iron Star or
Choose any
Iron or Chrome Tattoo Machine
Euro Professional Digital Power Supply, 110-220 Volt
Combo Clip Cord Foot Switch
50 Professional Mom's Shots
1-Tribal Pure Black by EOOne Corp
Ink Cups, 100 Small, 100 Large
5 Each Sterile Needle-in-Tube, 8RL, 14RS
Book: Lettering and Alphabets
Tattoo Flash Designs Book
10 Sheets Stencil Paper
10 Stencil SurgiLube applicators
Practice Ink It Skin
Instruction CD Intro to Tattooing
Allen Keys Set to adjust machine
Extra Front & Back Springs
Nipples for Needle Bars
Rubber Bands
Chemical-resistant Blow Molded Carry Case
Sharps Needle Container
Just Starting?
Hints and Pointers Troubleshooting your New Tattoo Machine
Learn how to safely Insert needles in tubes