#MO1385 Dr. Numb Topical Anesthetics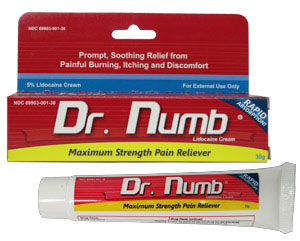 * Note: cut plastic wrap to cover the area to be tattooed only. Do not, for example, wrap "around" the arm.

Dr. Numb Lidocaine Cream
#MO1385 Dr. Numb
Maximum Pain Relief, Rapid Absorption.
5% Lidocaine Cream, For External use only.
Wash the area receiving treatment with soap and water. Dry area completely.
Apply a thick amount of numbing cream to the area and rub in thoroughly.
Place an additional, thin layer of cream over the area.
Cover the cream with plastic wrap (saran-type wrap)*. The heat under the plastic wrap helps activate the cream and keeps the cream from drying off.
Leave the plastic wrap on until it is removed by the professional before the procedure.