Unimax STAR Tattoo Machines
Unique and original 2-piece Interlocking Frame and Chuck.
Designed by mentor Andy Keator the Star achieves light weight, compact size and power. Considered a marvel of engineering. Technological innovation. Andy Keator's unique frame folds exactly beneath the coils to provide the magnetic channel for the coils. The frame then seats into the channel machined from the base.
This concept allows the chuck to be made of light weight non-magnetic different materials. The Unimax Star original chuck design comes with a chrome plated aircraft aluminum chuck base that has a second threaded hole to enable the clamp to open wider or close down so that both oversize and undersize tubes can be held firm.
Unimax Stars can run a Long Stroke at Low Voltage to join the Unimax "Strongest Machines in the World" Series.

Original Style Frame $ 19.95
Double Screw Pressure Chuck
Iron.
Will rust if not treated or may have
some rust already. Sold as is.
No returns.
Good for machine builders.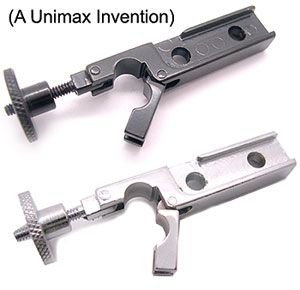 Replacement Jaws Chuck
Fits all Star and Apollo Machines.
# 4BA-235 Silver Plated
# 4BA-236 Black
$ 19.95 Each