MadaCide-1
Hospital Disinfectant Decontaminant Cleaner
Detergent Disinfectant Pump Spray

# MA1290, 1 Quart (0.946 Liters). Sprayer not included. Order 3 Qts for 1- FREE Sprayer

$14.10/Ea

Sprayer for Quart Size Available #MA1299
$5.00/Ea
# MA1291, Gallon (3.78 Liters)

$37.45/Ea

Active Ingredients
dimethyl benzyl ammonium chloride 0.105%
dimethyl ethylbenzyl ammonium chloride 0.105%
Uses:

General cleaning and precleaning prior to disinfection

.
To Disinfect Hard, Nonporous Surfaces/Articles
Follow directions on label.
Note: Disinfected food contact surfaces must be rinsed with potable water after cleaning and/or disinfection and before reuse. After disinfection, critical and semi-critical devices must undergo appropriate terminal sterilization/high-level disinfection.
PRECAUTIONARY STATEMENTS:


Hazards to Humans and Domestic Animals


CAUTION:

Harmful if inhaled or absorbed through skin. Causes mucosal eye irritation. Avoid breathing vapors and contact with eyes, skin or clothing. Wash thoroughly with soap and water after handling. Remove contaminated clothing and wash clothing before reuse.

KEEP OUT OF THE REACH OF CHILDREN.

Directions:

Follow directions on label.

First Aid

:

Follow directions on label.
Storage & Disposal: Follow directions on label.
Mada Equipment Co, USA
Unimax Interpretation: It is prohibited to use this product to disinfect body jewelry for piercing unless the item is rinsed in sterile water and sterilized after disinfection.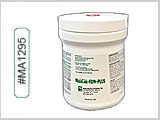 160 MadaCide Wipes
# MA1295 $16.95