"I did this using
The Tattanātor
at the
NYC Tattoo Convention.
Roseland May, 2012

The machines that I'm using
never before worked
so constantly and
smooth as now. "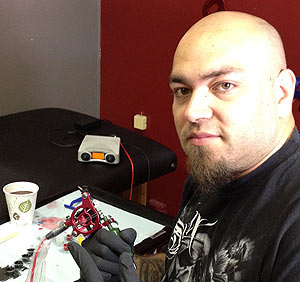 Sanel
Caracas-Venezuela
"It took just minutes playing
with it to learn how it works."
FEEDBACK
Sent: Friday, April 27, 2012 10:43 PM
Subject: Re: tattanator
Hey Wes, I just got done with my first tattoo with the Tattanator, just some simple lettering but just as smooth as silk!!! I tuned the machine initially at 80hz/30% duty cycle, once i had the needle , tube, and rubber bands set up on it i had to adjust it to 74hz/32% duty cycle for the same consistency. I actually think that has a little more to do with my stroke length than anything. I run a long stroke and so my rear spring aims pretty high in its resting position, and now that ive backed that off (actually i removed it all together) its swinging a crazy long stroke, but runs like a dream. I'm gonna get into adjusting the spring tomorrow and i'll shoot another email after that.
On Fri, Apr 27, 2012 at 9:14 PM, righteous ink wrote:
Dude i just got my Tattanator today, This thing is sick!!!!!!! Even like old turd machines that i have in an old box for apprentices run like Dringenbergs once you switch them around!!! I'm still playing with the settings as i'm sure i will be for a long time since there are so many combinations of spring, and coils to try but just right out of the gate this thing is all that you said it is, oh and p.s. it runs my, Vivace from NeoTat, my Hyper V2 from stigma, and my Dragonfly from ink machines. The first 2 ran sweet but the dragonfly needed a little adjusting of the settings and even then it ran a little funny sounding compared to running it on the Instek power supply. Thanks a bunch I'll keep you informed of anything I find worth mentioning. RIGHTEOUS INK TAT2
"It's unbelievable what it can do to make my tattooing easier, faster and more adjustable, even while I am working. No stopping to make all the physical adjustments.
Joseph John Lambert, Machine Builder & Tattooist, Brooklyn, N.Y.
"Love it." Adal Hernandez, NYC