Order # PT-1011
Bead Holding Tweezers, Stainless Steel $ 3.95
Used for retrieving beads and picking them up.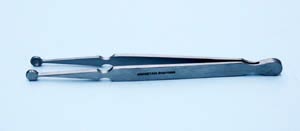 Don't think these will hold the bead in place so that you
can easily insert the bead into a captive bead ring.
There is no tool we have ever seen that will hold the bead
steady so that you can use it for inserting in captive bead rings.
You must learn to use your fingers.